Regional Champion of the 13th Dawn in Education Spelling Bee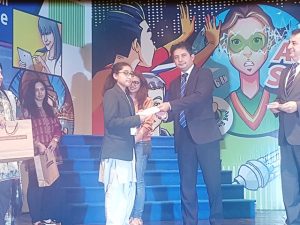 We are thrilled to announce Zuha Fatima Haider of MYP III as the Regional Champion of the 13th Dawn in Education Spelling Bee.

Zuha qualified for the first pool round and reached the Regionals of the 13th Dawn in Education Spelling Bee. In this round, she competed against schools from all over Lahore and won the Regional Championship 2017.
These competitions not only inculcate the love of words in young children, they also provide an opportunity for them to stand confidently in front of an audience and make their presence felt.
Three cheers for our Regional Champion!
Math Lessons Have Never Been So Much Fun!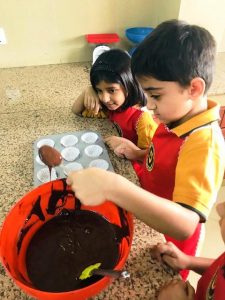 Baking helps develop confidence and self-assurance, and a greater understanding of the world in a range of ways. Why do cakes rise? How do egg whites turn from clear, sticky stuff into glossy white peaks? Baking can actually make for an interesting Science lesson. However, it was measurements and volume that the children really enjoyed learning about in their Baking activity this week. Cups, jugs, spoons and scales were used to show children how different amounts of substances e.g. butter, sugar, flour and cocoa powder can look different, but still weigh the same. The result was the delectable tray of cupcakes with various forms of frosting.
The hallmark of an International education is the array of skills children learn, outside of the four walls of the classroom. Cooking helps children understand why we eat the foods we do - what foods go well together, and what we need to include for a balanced meal. Besides learning about Mathematics and Sciences, cooking activities are a great way to bring different cultures in a class.
Three Cheers!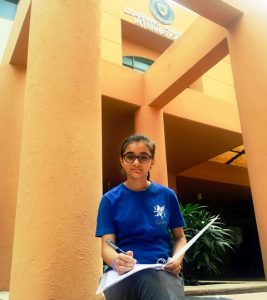 The great engine that drives innovation and invention in society comes from people whose flame of creativity was kept alive in childhood.
International Baccalaureate at Learning Alliance International is all about nurturing this spark and our students are a proof of that.
The latest in the series of our young learners making us proud is Nawal Haider Butt from MYP II, who had her travelogue published in Dawn News; Experience: A dream trip to Gwadar.
Nawal also has a Bronze Certificate in Queen's Commonwealth Competition to her credit. We wish her best of luck in all her future endeavors and hope that she will continue making us proud.
Trip to Greenfields Club and Resort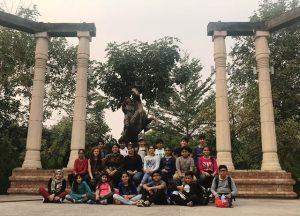 The students of MYP I and II of Learning Alliance International were taken to an overnight camping trip to Greenfields Club and Resort on the 28th of October 2017. The intent of the trip was recreational and was inclusive of various outdoor and indoor activities such as horse riding, motor boating, ATV driving, rock climbing, table tennis, badminton, cricket, foosball and several others.
Students left the campus on an early Saturday morning and were welcomed at the resort with some scrumptious snacks. Soon after breakfast, they were taken on trolley rides across the farm where they got to experience various fun activities. To further contribute to the experience of the students, there was a fun bonfire and barbecue night arranged. It was an exhilarating experience to watch them enjoy the atmosphere, food and music.
As a contribution to their IB learning experience, the students of MYP I and II developed camping skills and learnt fun ways to accommodate their friends in an unfamiliar environment. The trip was a success where the students were witnessed enjoying and experiencing interesting and challenging activities with a newfound passion.
International Kangaroo Science Contest Winners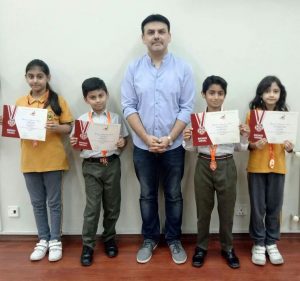 Children are curious by nature and science activities are the best way to nurture their curiosity and help them explore and understand the world around them. The Kangaroo Science Contest has an international character and it serves as a concrete step towards research training for all school children. This year, children from over 70 countries spread across the world participated in IKSC.
PYP students participated in the International Kangaroo Science Contest held on 24th September, 2017.
The categories under which they took part in the contest were Pre Ecolier, Ecolier and Benjamin level. The results were announced last week and PYP won four Bronze medals and numerous one, two and three-star badges.
We cannot be prouder of our young students who ventured forward and accepted the Science challenge emerging as our shining little stars!
Iqbal Day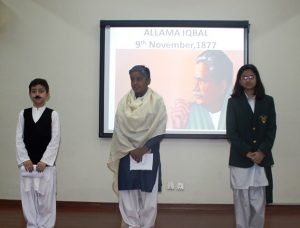 PYP celebrated Iqbal Day on 9th November, to commemorate the life and vision of Dr. Allama Muhammad Iqbal, "Poet of the East".
Iqbal's poetry is about his message to the Muslims of the Subcontinent and the reconstruction of religious thought in Islam.
PYP students spoke eloquently about the life and times of the poet, his vision of a separate homeland for Muslims and his expectations from the youth. A timeline of Iqbal's life was presented before the audience and a Q & A session was conducted by our students; sparking some very interesting responses from their fellows.
Students also recited some verses from his poetry with the help of some very simple props. It was refreshing to see students discussing their understanding of the poet's philosophy and working with each other and to the audience at large.