The IB Primary Years Programme (PYP) for children aged 3 - 12 nurtures and develops young students as caring, active participants in a lifelong journey of learning. Through its inquiry-led, transdisciplinary framework, the PYP challenges students to think for themselves and take responsibility for their learning as they explore local and global issues and opportunities in real-life contexts.
Origin of the PYP
The International Baccalaureate® (IB) Primary Years Programme (PYP) was introduced in 1997. It followed the introduction of the Middle Years Programme (MYP) and the Diploma Programme (DP) – established respectively in 1994 and 1968.  
As of 16 March 2017, there are 1,472 schools offering the PYP, in 109 different countries worldwide.
On 3 September 2019, there were 6,812 programmes being offered worldwide, across 5,175 schools of International Baccalaureate. The PYP is taught to students aged 3-12. However, at  Learning Alliance International, PYP starts from Grade 1 and is offered to students aged 6 and above. The PYP was developed through the vision and effort, sustained over ten years, of the former International Schools Curriculum Project (ISCP).
The goal of ISCP was to produce a common curriculum, for students in the 3-12 age range, which would provide continuity of learning within each school and ensure that the curriculum developed international-mindedness on the part of learners. Since being introduced by the IB, the PYP continues to meet these initial aims of providing a curriculum that brings international-mindedness to the school community.
TRANSDISCIPLINARY THEMES:
The International Baccalaureate® (IB) Primary Years Programme (PYP) is underpinned by six transdisciplinary themes around which learning is planned.
These are: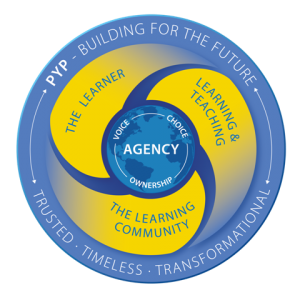 Who we are

Where we are in place and time

How we express ourselves

How the world works

How we organize ourselves

Sharing the planet
These themes are selected for their relevance to the real world. They are described as transdisciplinary because they focus on issues that go across subject areas.
The transdisciplinary themes help teachers to develop a programme of inquiry. Teachers work together to develop investigations into important ideas, which require a substantial and high level of involvement on the part of students. Through the PYP curriculum framework, schools ensure that students examine each theme. The written curriculum, outlined below, is made up of five essential elements and details what students will learn.
Essential elements in the PYP
The five essential elements of the PYP are:
knowledge:

which is both disciplinary, represented by traditional subject areas (language, maths, science, social studies, arts, PSPE) and transdisciplinary

concepts:

which students explore through structured inquiry in order to develop coherent, in-depth understanding, and which have relevance both within, and beyond subject areas

skills:

which are the broad capabilities students develop and apply during learning and in life beyond the classroom

attitudes:

which contribute to international-mindedness and the wellbeing of individuals and learning communities,  and connect directly to the IB learner profile

action:

which is an expectation in the PYP that successful inquiry leads to responsible, thoughtful and appropriate action

The PYP Exhibition: encouraging in-depth, collaborative inquiry
In the final year of the PYP, students carry out an extended, in-depth, collaborative project known as the PYP exhibition. This involves students working collaboratively to conduct an in-depth inquiry into real life issues or problems.  Students collectively synthesise all of the essential elements of the PYP in ways that can be shared with the whole school community. It also provides teachers with a powerful and authentic process for assessing student understanding. The exhibition represents a unique and significant opportunity for students to exhibit the attributes of the IB learner profile developed throughout their engagement with the PYP. It also provides schools and students with a wonderful opportunity to celebrate the transition of learners to the next phase of their education.
Benefits of PYP:
In the PYP, students learn how to think for themselves and take responsibility for their own learning through an inquiry-led approach. By developing the attributes of the IB learner profile, students also learn how to demonstrate respect for themselves and others, developing international-mindedness by working with others for a shared purpose and taking positive action for change.
The PYP:
addresses students' academic needs and their social and emotional well-being

encourages students to develop independence and to take responsibility for their own learning

supports students' effort to gain understanding of the world and to function effectively within it

helps students to establish personal values as a foundation on which international-mindedness will flourish
                                                                                Source: IBO website, Benefits of PYP