The second programme by the International Baccalaureate® (IB), the Middle Years Programme (MYP) was introduced in 1994. Designed as an inclusive, whole-school programme for students 11-16 years old, the MYP is now implemented by 1,358 schools in 108 countries. On 3 September 2019, there were 6,812 programmes being offered worldwide, across 5,175 schools of International Baccalaureate.
How the MYP works
The Middle Years Programme helps students develop both subject-specific and interdisciplinary understanding. The MYP curriculum framework includes:
Approaches to learning (ATL) - helping students learn how to develop skills for research, critical and creative thinking, communication, collaboration, and self-management.

Key and related concepts - helping students explore big ideas that matter.

Global contexts - helping students understand the relevance and importance of their study for understanding their common humanity and shared guardianship of the planet.
The IB MYP comprises eight subject groups:
Language acquisition

Language and literature

Individuals and societies

Sciences

Mathematics

Arts

Physical and health education

Design
In years 4 and 5, students have the option to take courses from six of the eight subject groups to provide greater flexibility in meeting local requirements and individual student learning needs. In year 4, Science is further divided into Physics, Chemistry and Biology; the former 2 are made compulsory.
In addition to the above subjects, the Learning Alliance International MYP Students have to:
Complete 25 hours of their

Personal Project

, in order to engage in practical explorations through a cycle of inquiry, action and reflection.
MYP students tend to be:
Active learners

Goal-oriented

Internationally minded

Empathic

Intellectually skilled to pursue a life of purpose and meaning

Effective communicators

Explorative in learning preferences

Risk takers

Reflective of a strong sense of personal identity
Why choose MYP?
It helps students build confidence in managing their own learning.

They learn by connecting the classroom to the larger world.

They are able to outperform non-IB students in critical academic skills.

MYP students consistently have greater success in IB Diploma Programme examinations.

MYP students thrive in positive school cultures where they are engaged and motivated to excel.

They develop an understanding of global challenges and a commitment to act as responsible citizens.
The MYP was revised in September 2014 to provide a more rigorous and highly flexible framework that powerfully integrates with local educational requirements.  New industry-leading onscreen examinations and ePortfolios offer exciting opportunities for reliable, robust digital assessment of student achievement.
How eAssessment works:
Once a school registers for eAssessment in the MYP, the IB will be able to assess students' work in two ways:
ePortfolios of coursework, including a compulsory ePortfolio for the personal project.

On-screen examinations, with each exam lasting two hours.
The graphic below shows how these two types of assessment are divided across the MYP's different subject groups.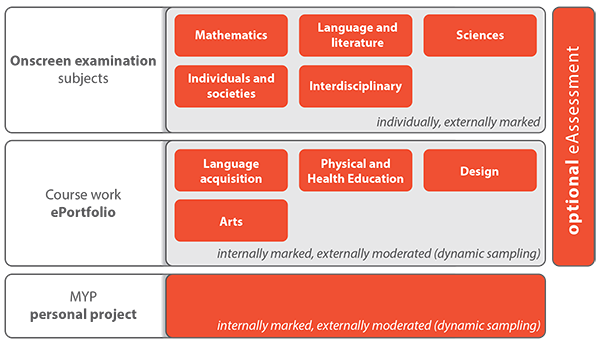 Source: IBO website, 'Benefits for universities'