English Summative Task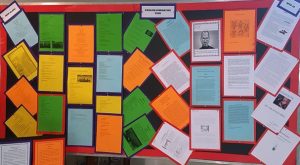 MYP I was given a summative task to investigate and document any aspect related to the novel 'The Boy in the Striped Pyjamas' that is, Holocaust, Concentration Camp/ Auschwitz or the World War II, and compose a poem, in a creative manner, following the general rules of poem construction. This task gave them an opportunity to elucidate their understanding of the global context Orientation in Space and Time where they explored how historical context and authors' perspectives affect readers' interpretations of literary texts and the concept of truth. It also enabled the students to have a different perspective on war as portrayed in the novel by John Boyne. Students created poems that weren't only heart touching, due to their amazing vision, but also extremely well-scrutinized. Later they recited their poems to all the MYP students.
To wrap up the unit "Here's to the crazy ones", students of MYP-II were exposed to Science Fiction while focusing on the impact of innovations on the modern world. They enjoyed the journey through the novel 20,000 Leagues Under the Sea, by Jules Verne, and were introduced to the Industrial Revolution and its importance. To assess their understanding, they were given a task to write a reflective essay on an innovator whose initial research led to a world changing invention, and present it in class, dramatically. This was to annotate their comprehension of the global context Scientific and Technical Innovation where they delved into history to know how innovation has a strong relationship with personal creativity and self–expression.Students exhibited their research and views on their chosen inventors prolifically in the form of a Reflective Essay. Their essays were displayed as an exhibition.